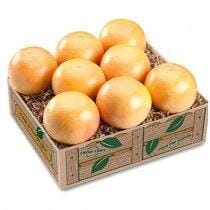 Ruby Red and White Grapefruit (Shipping Included)
Regular price $60.98 Sale
- White Grapefruit available Dec & Jan ONLY
ORDER MUST BE PLACED BY DECEMBER 12TH TO GUARANTEE DELIVERY BY CHRISTMAS.
White grapefruit have a bright yellow rind when ripe, are almost perfectly round and are roughly 8 to 13 centimeters in diameter. The pith is bright white, encompassing a pale yellow flesh. White grapefruit is very juicy, containing up to 75% juice. The flavor of White grapefruit is sweet with contrasting bitter and sour notes. White Grapefruit grow on dark-green leafy trees that reach an average of 6 meters in height.
UNCONDITIONAL GUARANTEE 
Our business reputation depends on SERVICE and QUALITY. Delivery is guaranteed on all shipments when the addresses are COMPLETE and CORRECT and the addressee is available to receive the package. Remember, we must have a complete mailing address.