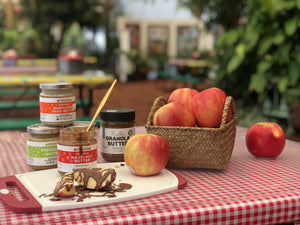 Organic Sunflower Seed Butter
Regular price $21.99 Sale
Remember eating sunflower seeds as a kid? Well, this is way better way of indulging in sunflower seeds.
This delicious Sunflower Seed Butter is made with organic ingredients. It is a healthy alternative to peanut butter because it is vegan and safe for those with gluten allergies. Spread one tablespoon of this organic sunflower seed butter onto a croissant, waffle, or your favorite breakfast cereal. Add to your morning smoothie or use in your baking.
Organic, Vegan, Gluten Free - Better than store bought! Karmalize.Me blends are great for all your healthy breads, smoothie bowls, Muffins nd of course our famous Strawberry Bread. You can't get better than this!