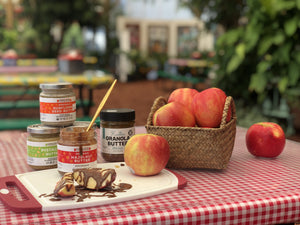 Organic Hazelnut butter
Regular price $24.99 Sale
Imagine the luscious aroma of hazelnut. Now imagine the buttery, nutty, creaminess of organic hazelnuts when you smear it on toast, dip fruit in it, spread it on whole wheat rolls with red raspberry jam, or drizzle apples with it.
This delicious hazelnut spread is made with organic ingredients. It is a healthy alternative to Nutella because it is vegan and safe for those with gluten allergies. Spread one tablespoon of hazelnut butter onto a croissant, waffle, or your favorite breakfast cereal. Add to your morning smoothie or use in your baking.
Organic, Vegan, Gluten Free - Better than store bought! Karmalize.Me blends are great for all your healthy breads, smoothie bowls, Muffins nd of course our famous Strawberry Bread. You can't get better than this!