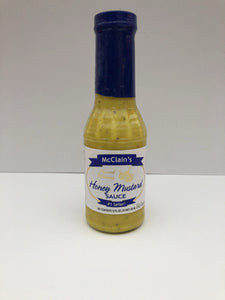 McClain's Old Florida Onion Honey Mustard
Regular price $40.99 Sale
Full flavor, no compromises
McClain's Old Florida Onion Honey Mustard is the perfect blend of  fresh onions, sweet honey and tangy mustard. Using the finest ingredients make McClain's Old Florida Honey Mustard a local favorite due to it's sweet and tangy taste.
Make them say wow
Whether you use McClain's Honey Mustard as a dip or part of your recipe, you know you can trust McClain's Honey Mustard to elevate your food with its delicious balanced flavors of onions, honey and mustard.
Delivered right to your door
Save the hassle for more important things. People drive miles to our store for this signature sauce and now you can enjoy it in the comfort of your home.
 FYI- As of September 7, 2023, current stock has an expiration date of February 2024.
Product Details
Perfectly balanced Onion Honey Mustard

Made with fresh ingredients

Wonderful in dishes
Mouthwatering as a dipping sauce
Available in a 3-pack or 6-pack