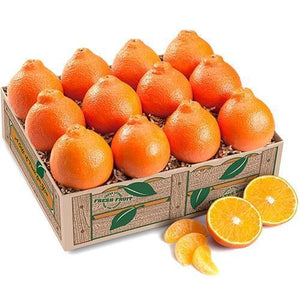 Honeybells (Minneola Tangelo) Shipping Included
Regular price $60.98 Sale
PRE-ORDER NOW FOR JANUARY ARRIVAL
***ESTIMATED DELIVERY IS 2 WEEKS AFTER ORDER DATE****
Honeybells are available for a short time, early in January, they have fantastic appearance, a unique taste, and are bursting with juice! ORDER EARLY ON THESE! You may mix with Red Grapefruit. CALL FOR PRICING!
UNCONDITIONAL GUARANTEE 
 Our business reputation depends on SERVICE and QUALITY. Delivery is guaranteed on all shipments when the addresses are COMPLETE and CORRECT and the addressee is available to receive the package. Remember, we must have a complete mailing address.