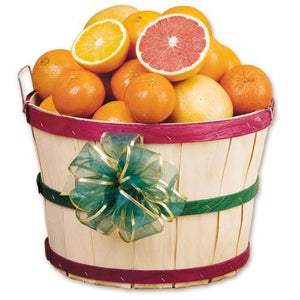 Grand Slam Basket (Shipping Included)
Regular price $84.98 Sale
First Shipment scheduled for middle of November.
Fruit Only (14 Mandarins, 10 Navels and 8 Red Grapefruit
Deluxe contains Fruit, Marmalades, Coconut Patties
PRE-ORDER NOW FOR ARRIVAL WEEK OF THANKSGIVING.
ORDER MUST BE PLACED BY DECEMBER 12TH TO GUARANTEE DELIVERY BY CHRISTMAS.
***ESTIMATED DELIVERY IS 2 WEEKS AFTER ORDER DATE****
Send our Grand Slam gift in a genuine half bushel grove basket! Overflowing with our freshest citrus - sweet Navel Oranges, lucious Tangelos, and wonderfully juicy Ruby Red Grapefruit. Enough for family, friends and holiday guests. And when the fruit is all gone, you'll have a wonderful basket to use for crafts, gardening, or holiday decorating.
UNCONDITIONAL GUARANTEE 
 Our business reputation depends on SERVICE and QUALITY. Delivery is guaranteed on all shipments when the addresses are COMPLETE and CORRECT and the addressee is available to receive the package. Remember, we must have a complete mailing address.