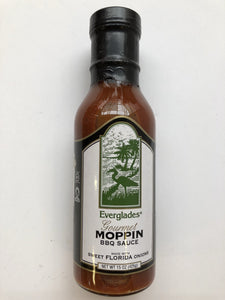 Everglades Gourmet Moppin BBQ Sauce - 3 pack
Regular price $40.99 Sale
Another locally made BBQ sauce made with Sweet Florida Onions. Apply Everglades Gourmet Moppin BBQ Sauce liberally on your favorite cut of meat. On the grill or in the kitchen, we guarantee you'll be impressed. 
Fresh from Florida
Certified Gluten Free
Great for dipping
Contains Soy
Ingredients: water, sugar, corn syrup, liquid smoke, vinegar, worcestershire, mustard, vine ripened tomatoes, onion, tamarind, salt, soybean oil, seasoning, garlic powder, xantham gum, food thickener, potassium sorbate, sodium benzoate, nutmeg, black pepper, cayenne pepper, allspice.