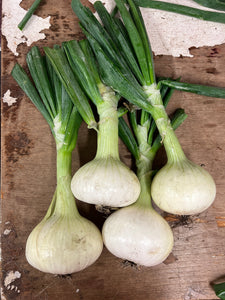 Strawberry Onions (4 ONIONS)
Regular price $45.99 Sale
ORDERS WILL BE SHIPPED IN THE ORDER THEY WERE RECEIVED.
THIS IS A BOX OF 4 STRAWBERRY ONIONS.
Do you love cooking with onions but hate the tears that come every time you cut or cook an onion? Our famous fresh Strawberry Onions are back in season.  And I promise you, they won't make you cry every time you slice them or cook them. 
These Savannah Hybrid Onions are grown alongside our strawberries in our strawberry fields and they are the sweetest onion you'll ever try.  
Please note onions are currently the size of a baseball. Each onion order is shipped out on WEDNESDAY through UPS Ground to your home.

PRICE LISTED INCLUDES UPS GROUND SHIPPING.
*** You must be present to accept package from UPS.
Don't miss out on the tastiest onions around! Only available for a limited time.