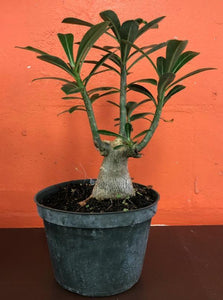 Desert Rose (Includes Shipping)
Regular price $20.99 Sale
Desert Rose (Adenium obesum) might look like a bonsai because of its swollen trunk, but they are part of the succulent family. As a flowering succulent, Desert Roses are perfect container plants and can sometimes be planted outside if temperatures allow.

As a succulent, Desert Rose prefers lots of full sun (at least 6 hours) and warm, dry conditions. It's swollen trunk allows it to store water for later use. Desert Roses can be white, pink, or red. It's flowers are clumped, trumpet shaped. Perfect container plant for a patio as long as it gets 6+ hours of sunlight daily. Desert Roses need sunlight to produce flowers. 
If you are in warm climate year round, you may plant Desert Rose in the ground as long as temperatures don't go below 32 degrees F.
full sun
flowering succulent
easy care, low maintenance
container plant
ships as 4" pot
not pet friendly, poisonous 
colorful pink, red or white flowers
Common name: Desert Rose
Botanical name: Adenium obesum
Uses: patio plant/outdoor plant
Sunlight requirement: full sun
Hardiness Zone: 10a-12
Drought tolerant: yes
Soil preference: well drained
Fertilizer needs: apply well balanced fertilizer in summer months
Watering needs: Prefers dry conditions. Low-medium water needs.
SHIPPING INCLUDED