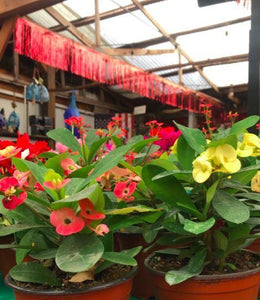 Crown of Thorns - Euphorbia (Includes Shipping)
Regular price $21.99 Sale
Crown of Thorns are drought-tolerant plants which can tolerate indoor/outdoor conditions. This 5" plant will be securely mailed to you through USPS priority mail or UPS ground. Available in pink, yellow or red.
Crown of Thorns prefers full sun but will tolerate some shade. This succulent can be kept inside as long as its location receives at least 4 hours of direct sunlight daily. This is an easy plant and does well in even the poorest soil. It is a succulent and as such does not need a ton of water. 
As pretty as their little flowers are, these plants do have thorns and are considered poisonous. Please keep children and pets away from your Crown of Thorns plant.
SHIPPING INCLUDED