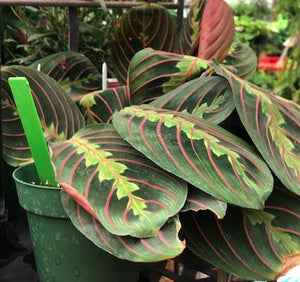 Calathea Medallion (Includes Shipping)
Regular price $21.99 Sale
Calatheas are commonly known as Prayer Plants. A cool fact about them is they are called Prayer Plants because at night their leaves turn upright like prayer hands. I love Calatheas because they come in so many different varieties, you can become a Calathea collector in no time. These plants like water once a week and a sunny location such as a window sill. And that's it. Keep the soil moist to the touch but not overly wet. In other words, you almost want the soil to be dry-damp before you give them some water again. Another great thing about Calatheas is that they are non-poisonous to pets. 
Calathea Medallion are known for their big, broad, colorful leaves which makes them perfect for low light indoor conditions. Their leaves have a combination of green shade on the top of the leaf and a purple/burgundy color on the bottom side of the leaf making it a colorful addition to your home.
indoor/houseplant
pet friendly
low-medium light needs
medium watering needs
ships as 4" pot
easy care, low maintenance
container plant
Common name: Prayer Plant
Botanical name: Calathea roseopicta 'Medallion'
Uses: patio plant/indoor plant/house plant. Can be grown outside under shade in zones 8-11.
Sunlight requirement: medium to bright indirect light, can tolerate low light
Hardiness Zone: 8-11
Drought tolerant: no
Soil preference: well drained
Fertilizer needs: feed mid-Spring until summer months while plant is actively growing
Watering needs: Low-medium water needs. Does not like wet-soggy soil. Be careful of overwatering.
SHIPPING INCLUDED